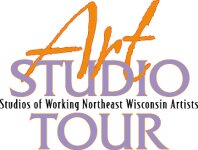 Art Studio Tour

October 10th at 3:39 pm
We look forward to you joining us this weekend on October 12, 13 and 14!

For an event brochure please contact us at or visit the ARTgarage at 1400 Cedar Street, downtown Green Bay. The ARTgarage will be open Wednesday - Friday, October 10-12 from 12:00 noon until 8:00 p.m.; Saturday, October 13 from 10:00 a.m. until 6:00 p.m.; and Sunday, October 14 from 12:00 noon until 5:00 p.m. Feel free to contact the ARTgarage at during these hours.



Art Studio Hours:
Friday, October 12th, 12:00 am – 8:00 pm
Saturday, October 13th, 10:00 am – 6:00 pm
Sunday, October 14th, 12:00 am – 5:00 pm
Admission:
The self-guided tour is free to the public.
Taking the Tour:
Be sure to watch for the Art Studio Tour directional signs at the main intersections en route to each studio. You will find an event flag at each studio entrance.

Feel free to call the artist's studio for more details.
Lodging:
The Holiday Inn City Centre can assist you with your travel plans. Call or visit them online at www.holidayinn.com/greenbay-city
For More Information and a Brochure:
Art Studio Tour brochures may be obtained in advance by stopping in at the Arts Events, Inc. office at 306 Pine Street, downtown Green Bay, by calling , or emailing

Please contact us for event details.