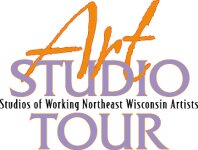 Art Studio Tour

October 10th at 3:39 pm
We look forward to you joining us this weekend on October 12, 13 and 14!

For an event brochure please contact us at or visit the ARTgarage at 1400 Cedar Street, downtown Green Bay. The ARTgarage will be open Wednesday - Friday, October 10-12 from 12:00 noon until 8:00 p.m.; Saturday, October 13 from 10:00 a.m. until 6:00 p.m.; and Sunday, October 14 from 12:00 noon until 5:00 p.m. Feel free to contact the ARTgarage at during these hours.



October 12, 13 & 14, 2007
The Art Studio Tour features open artisans' studios providing a rare, intimate view of the artists and their work during the creative process. These well-known, award-winning artisans include potters, sculptors, painters, weavers, jewelers, photographers, woodworkers, and more. You'll see the creation of forged metal work, abstract sculptures, enchanting photographic images, contemporary stained glass, captivating paintings, handmade garments, and more.
Many of the studios are open only for this event, providing a unique opportunity to meet the artists in their environment, purchase their work, and see how it is created. Visitors will have the opportunity to ask questions and discuss the artist's work. They will learn about the special tools and processes involved in making art.
You will be able to visit charming studios throughout the greater Green Bay area and the lakeshore. Beautiful scenery and magnificent fall color on the drive through the autumn countryside enhance the ride between studios. The free self-guided tour is designed so you can plan your own route. Start the tour at any studio using the map and watch for Art Studio Tour signs at key intersections along the way leading you to your destination.
View the artists of the Studio Tour...